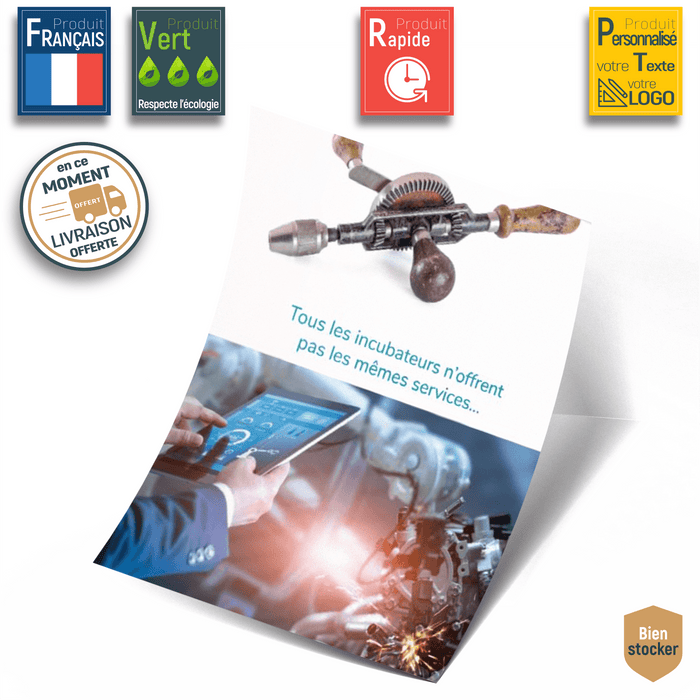 COMPANY FLYER CREATION
To make your company known to as many people as possible, the flyer is a communication medium that is simple to create and inexpensive to print.

You have the choice between different formats depending on your needs. Below, you will find a simplified guide to help you in your choice of paper .
It is possible to print cheap and sufficiently qualitative flyers on relatively low weight paper. Nevertheless, choosing heavier weights for your documents helps to reinforce the image of seriousness and professionalism conveyed by your company.
Please note that our corporate flyers are made in France .

We offer the creation and rapid printing of your corporate flyers. If you already have your visual, you can also send it to us. (Do not hesitate to consult the instructions to save time).
Advertising flyers or leaflets format
flyer format A6 148 x 105 mm or 14.8 x 10.5 cm
flyer format A5 210 x 148 mm or 21 x 14.8 cm
flyer format A4 297 x 210 mm or 29.7 x 21 cm
flyer elongated format 100 x 210 mm or 10 x 21 cm
flyer square format 140 x 140 mm or 14 x 14 cm
Paper
Unlike the advertising flyer , here we have more qualitative and rigid papers:
250g glossy quality paper : quality paper for a more professional presentation, an asset for your sales representative during their presentations
324g ART mat : semi-cardboard paper very good vertical hold with a pleasant touch and very good color rendering, ideal for highlighting the graphic aspect of the visual or an original creation
Impression
Quadri or black and white (same price)
Front only or front / back (same price)
Shaping
Instructions
As an option, the creation or only the formatting can be entrusted to Bien encré
Printing from compliant files provided by the customer
PDF - 300 dpi - vectorized - CMYK - 5mm bleed edges - 5mm comfort zone - non-contiguous cutting and creasing lines