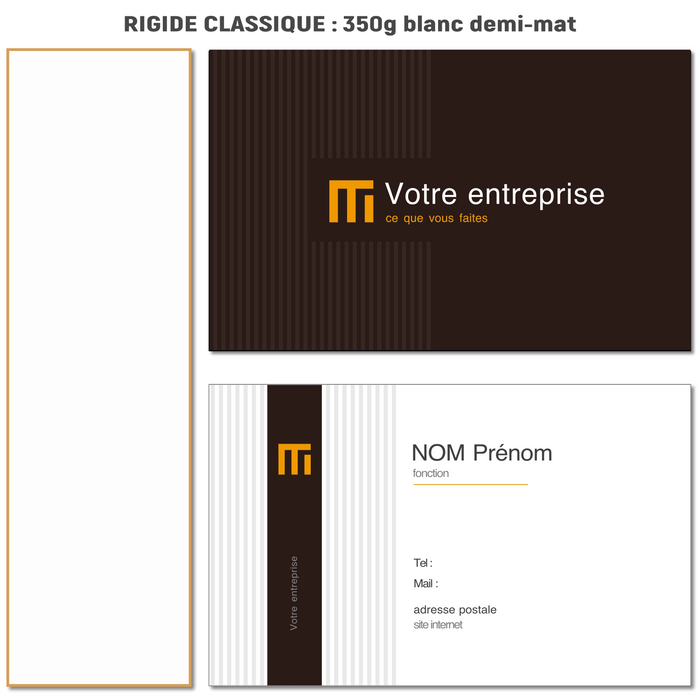 Classic Simple Business Cards
Original price
25,00€ T.TC.
Original price
25,00€ T.TC.
-
Original price
160,08€ T.TC.
Original price
25,00€ T.TC.
Current price
22,58€ T.TC.
22,58€ T.TC.
-
160,08€ T.TC.
Current price
22,58€ T.TC.
The classic simple business card format
Business cards , or presentation cards , are an essential tool for making yourself known to potential future customers or suppliers. Their appearance and the quality of the paper used should not be neglected in order to convey a professional image.

For business card printing , we offer different types of paper so you can find the most suitable for your corporate identity. You will find our guide to papers a little further down this page.


It is possible to entrust us with the production of the visual of your business cards . To do this, see the instructions at the bottom of the page.

If you already have a visual, to save time, do not hesitate to check that your file is compliant by following the instructions at the bottom of the page. We also do audits.
Print format for business cards
This business card print size is standard. This is the classic French standard. It allows you to have a cheap and personalized business card .
The little extra: our business cards are a French product !
Printing paper for making a card
350g semi-matt coated: The professional business card printing paper is a semi-rigid or semi-cardboard paper allowing it to hold well in the hand.
350g recycled natural look: if your company communicates on eco-responsible values, this type of paper is ideal for remaining consistent with your commitments.
324g matte canson look: rather recommended for companies in the creative sectors, this paper makes it possible to create business cards that are both visually and tactilely pleasing.
450g semi-matte: This high quality paper is perfect for high-end business card printing , but at affordable prices .
Professional business card printing
Business card printing can be done single-sided, or double-sided. The price is same for both options. The number of colors chosen during creation does not affect the price, even if it is monochrome black and white.
Processing to print business card
For this version, you can create a rectangular business card . This is the usual shaping form.
Instructions for online business card printing
As an option, the creation or only the formatting can be entrusted to Bien encré
Printing from compliant files provided by the customer
PDF - 300 dpi - vectorized - CMYK - 5mm bleed edges - 5mm comfort zone - non-contiguous cutting and creasing lines.
I entrust you with the realization of the visual
Before adding to the basket, I write the text that I want to appear: surname, first name, function, address, telephone, etc...
I send my logo ideally in PDF format (JPEG and PNG also accepted) via the site interface, or by email or WeTranfser (contact@bien-encre.fr).
I order
A graphic designer sends me a first version. I exchange with him, and if necessary, ask for a new version.
Once I have validated a version (and only after validation), the printer starts printing.
I want to do the visual myself
I send my file in PDF format (JPEG and PNG also accepted), via the site interface, or by email or WeTransfer (contact@bien-encre.fr). I make sure that the file complies with the following guidelines:

Color: CMYK
Resolution: 300dpi
Type: vectorized PDF (ideally), JPEG, PNG
Front and back in two separate files
Orientation: horizontal
Comfort zone: 5 mm per side
Bleed area: 5 mm per side
Comfort Zone Size: 75mm x 45mm
Card Size: 85mm x 55mm
File size: 95mm x 65mm
Non-adjoining cutting lines

I order.
A graphic designer checks my file. If it is compliant, printing is launched. Otherwise, he contacts me again to ask me for changes, or makes them himself if they are simple adjustments
Printing is started.
We print only after verification by a graphic designer, in case of doubt we systematically contact you by telephone to check the file together.
Original business card prices